I feel Good because…
After missing 8 school days due to snow and ice, working a full week has been tough! I feel good because it's Friday and the week is finally over!

Having a 2-hr delay makes me happy.


It's my birthday weekend, and that alone makes me feel good! Happy B-day to me!
I'm looking forward to celebrating my b-day with family and friends.

I had a great conversation with a man of God, and he told me that I did an amazing job raising my daughter (the 19 yr. old). Now, I already know that she's wonderful, but it feels good knowing that someone else knows how wonderful she is.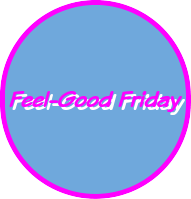 "Life isn't a matter of milestones, but a matter of moments." Rose Kennedy