Me and my hubby in 2008 (we were so cute)
Yes, as we all know, February is the month for love! And because I am not always the easiest person to love or to show love (especially) when it comes to my spouse, I thought that a love challenge would be just the thing to help me make love the focus of my marriage. Now before I go any further, I have a confession to make, and please be warned, what I am about to say is real, and to be honest, I am not at all proud of it, but what I do know is that it has to be said. Why? Well, because the time has come for me to be honest with myself about the role I play in my marriage, and in order for God to turn my mess into miracle I have to acknowledge that I have a mess.  So here goes…
I confess that…
1. I have treated other people better than I have treated my own spouse.
2. I have not always spoken about my spouse with love, and I have not always presented him in the best light.
3. I have been too angry to forgive my spouse.
4. Because of  my anger, I have withheld love and I have been disrespectful.
5. My actions have been sinful against both my marriage and my family.
You see, for years, I have been a contentious wife, and what the Bible has to say about this kind of wife is eye opening. Proverbs 25:24 says, "It is better to live on a corner of a roof than in a house shared with a contentious woman." WOW!  Living on a corner of a rooftop is better?!?! Now that is saying something.
Well, today as I sat in church, the pastor mentioned the Apostle Paul, and just upon hearing Paul's name, I began to think about Paul's redemption from one of the most ardent persecutors of Christians to one of the most devout lovers of Christ. I then began to think that if Christ could convert Paul, then He can also change me, and what's more, He can change my husband as well.
So for the next 30 days, my focus is not going to be on who is right or wrong, but on being less contentious and reviving my marriage. I plan to show love and have fun with my husband, and I challenge you (if this post relates to you at all or if you want to make sure you don't become a contentious woman) to do the same.  So here are two great challenges: choose the one that works for you or choose both!
Popsugar promises to spice up anyone who is in a "relationship rut"!

Serious One: 30 Day Marriage Challenge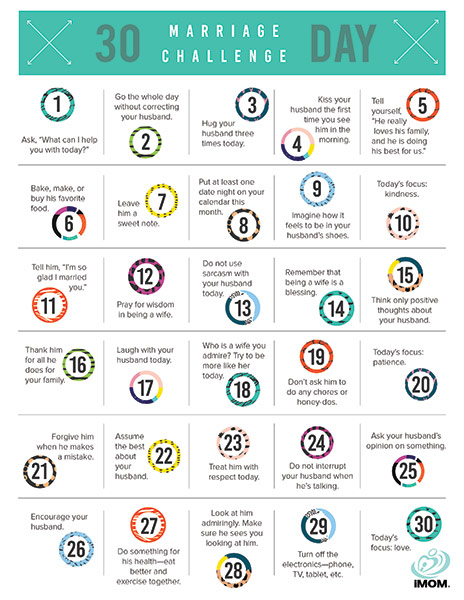 Have a loving 30 days; you and your spouse deserve it!
thoughtfully,