As 2015 draws to a close, I'd like to take the time to share with you my 15 favorite items of the year.  I know it seems to be a bit much for me to try to narrow my favorite things to a total of 15, but I thought long and hard about these choices, and here they are!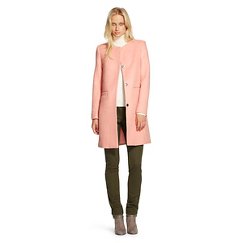 1                                               2                                                           3
4                                                          5                                               6
7                                            8                                                               9
10                                                  11                                               12
13                                        14                                                  15
Capelli Rain Boots with Fleece: It has rained here in NC since August and these babies have helped me brave the storms.
The Happy Planner: With all the craze about planners, spiral bound or disc bound, the Happy Planner meets all of my needs.
WD NY Peach Blush Coat: Pantone said that Blush is one of the colors of the year, and this coat is a vintage find.
Max Jeans Jacket: The Utility Jacket is a fashion staple, so if you don't have one, get one now!
The Magical Slow Cooker Cook book: I follow the Sarah's blog, The Magical Slow Cooker, and then my daughter gifted me her book!
Asics Gel Noosa Running Shoe: I got these shoes to add both comfort and color to my life, and they do not disappoint.
Year of Yes: Shonda Rhimes' memoir serves as an affirmation that it is time for a change in my life and it all starts with saying YES!
Old Navy Rock Star Jeggings: I literally live in these pants. I love them! They are my favorite pants of all time! Now that's sayin' something.
Threshold Ballerina Snow Globe: Too cute not to buy this 2015 Ballerina for my favorite chocolate child, and she loves it!
Tru 3-in-1 Slow Cooker Buffet: Well, I slow cook, so I needed this slow cooker!
Frost Free Puffer Vest Grey: So I hyperventilated when I saw this vest because it's beautiful, warm, and versatile, just like me!
Samsung S6 Edge: I went back and forth with this phone vs. the iPhone 6, and I have NO REGRETS!
Urban Decay F-Bomb Lipstick: I needed something to make me feel like a woman.
Asos Pencil Dress: Because every woman needs a dress in her closet that gently hugs her curves. This. Is. That. Dress!
Mandalas Coloring Book: To bring me calm and create a sense of mindfulness!
I have added the link if the item is still available, if not, I'm sorry! These items really are my fave 15 for 2015 !